Meet the Owners
Snowwater Heli Skiing is owned and operated by the husband and wife team, Patric Maloney and Maria Grant.  The pair manages the business with a fervent gusto akin only to those truly obsessed with powder skiing, mountain living, and the constant desire to have fun. Their goal has always been to live an active, healthy lifestyle while being continually challenged and inspired. Having the lodge allows them to meet extraordinary people from around the world who share similar philosophies in life.
It was Patric who initially conceived of and designed the concept of Snowwater.  Having played in the mountains since he was fifteen, 'bagging any peak' he could find, he spent all his time in time outdoors, eventually becoming a forester and arborist. He bought the lodge property in 1993, built the main timber frame structure in 1994, and began offering snowmobile ski touring trips soon after that. Thus, Snowwater was born.
Maria seemed destined to join him on his ambitious path. An ardent powder fiend with a feisty attitude, she joined the mission early on and was soon helping to create this mountain paradise aimed at pleasing the most discerning powder enthusiast.
Keen travelers, Patric and Maria constantly pursue adventure of all kinds, searching for unique ideas to add to the diversity of the lodge.  Summer programs are soon to include horseback riding, yoga retreats, fly fishing and hiking.  As passionate 'foodies', it is their ever-vigilant quest to promote international flavours at Snowwater, and to indulge in fine wine.
Each year they continually refine the services and amenities of the company to remain at the forefront of the heli-skiing experience in British Columbia.  Underlying everything is a commitment to providing exceptional service, excellent employee training, and a family style atmosphere where all are made to feel welcome.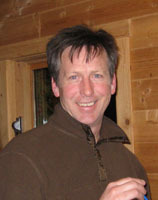 There is another person who has been instrumental in the development and very survival of Snowwater. Meet the man behind the scenes, our partner, Chris Beresford. Although not present in the day-to-day operations, Chris works closely with Patric and Maria to develop Snowwater into a premier destination resort.   He shares our passion for nature and backcountry skiing and spends a good deal of time skiing with us in the winter.  He looks forward to meeting all of you.   Continually upgrading his own skills you may see him skiing in your group!